Wired and Wireless Microphone Rental
When you choose FHM A/V for your microphone rental, you can expect the latest in audio technologies, ensuring the best performance of your rental equipment.
---
Handheld  /  Lapel  /  Earset MicroBoom  / Podium
From $39
Delegate Microphones / Discussion Systems  (Push to Talk)
For Panels and Discussion Groups of 3 – 300
From $399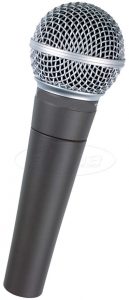 Wired Microphones
Handheld  /  Podium  /  Choir  /  Shotgun
---
FHM Audio Visual offers a large selection of wireless and wired microphones rentals. Our microphone rentals can be fitted to match the size and setting of your event, whether it's a church service, corporate presentation, concert, or another event. Our audio visual professionals recognize the wide range of use and range that a microphone may receive. That's why why we are committed to magnifying the performance of your microphone at any event, no matter the size or setting.
---
Wireless Microphone Basics
There are two basic types of Wireless Microphones
Bodypack Transmitters are Used for Lavaliere or "Lapel" Mics, Earset Headworn Mics  and also Instrument Cables
Lavaliere Microphones, often called "Lapel Mics" or "Clip-On Mics" are a very popular form factor for presenters and public speakers who want the ability to move above with their hands free.
Lavalieres are excellent for situations requiring "invisible" microphones. These also work well for novice / occasional presenters who are uncomfortable with holding a microphone in their hand or wearing something on their head.
The  down side to Lavalieres is that they are more prone to feedback and typically provide less signal then a Handheld or Earset.  Having said that – a good sound engineer with the right equipment should have no problem implementing a Lavaliere mic.
Earset or Microboom Mics
Earset or MicroBoom microphonesare often referred to as "Countryman Mics" after Carl Countryman , one of the early innovators of the technology – he was also President and Chief Engineer of Countryman & Associates of Menlo Park, California.  These microphones clip to either one ear or both, and typically offer a much better signal that Lavaliere mics simply due to the closer proximity to the speakers mouth.
Earset mics are excellent for public speaking as well as theatrical performances.  There even models designed to work well for robust singing voices.
The down side to Earset mics is getting used to something "hanging from your ear".  There is a tendency to want to reach up and touch it to make sure it is still there correctly.
Handheld Transmitters are used for the traditional Microphone style.
Handheld Transmitters provide the most wide-ranging assortment of applications.  The nature and design make them the easiest to use by the "Do it Yourself" person or beginner sound engineer. There are a wide variety Microphone "Elements" available. The element is the end of the microphone, usually round or conical . (in the image above it is silver in color) Different elements work better for different applications.  Handheld Transmitters work best when held directly ion front of the mount or sound hole of the thing being amplified – rather than off to the side or hanging down at the waist.
Handheld Transmitters are excellent for any application.  They are the easiest to use without feedback, and are very efficient in situations where the microphone will be shared by multiple users (passed around).
The down side to Handheld Transmitters is that they are bulkier and are not easily concealed.  Also the benefit of the handheld mic can be negated if the person does not hold it in the correct position.,